Welcome to the Yao Pack! [Not the Sushi Container!]
What is the 'Yao Pack' you may ask? Well, it's a collection of all my favorite mods, in one modpack! It includes many different technology, adventure and magic mods. If you have played Tekkit Legends, FTB or Tekkit, you will be quite familiar with many of the mods in this modpack! For me and my friends, many of the major modpacks were too massive for us to get into, or changed the game too much to be enjoyable. I planned to solve that with the Yao Pack, by adding smaller and less complex mods (like Quark, for example) to make the transition to mods a bit easier for everyone, without lacking features or mechanics. With over 200 awesome mods, you'll never run out of things to do. It's the ultimate mod pack!
OFFICIAL PUBLIC 24/7 SERVER AVAILABLE TO EVERYONE (PRE-ADDED TO YOUR SERVER LIST)!
Need a server to play with friends? Don't know how to set one up? Just rent an already configured server!
Click on the picture above, select plan (at least 4GB), use my code henriko to get 25% off your first month, and enjoy playing with your friends!
https://bisecthosting.com/henriko
** Henriko Magnifico's Yao Pack includes community favorites such as:**
IndustrialCraft 2 [A classic tech/industrialisation mod! Auto-Crafting and more!]

BuildCraft [A simple mod to get into, but just as cool as many other tech mods. Build huge quarries and let them do the hard work for you!]

Steve's Carts 2 [Improve your rails beyond belief and much more!]

GalactiCraft [Travel to space!]

PSI [Program your own spells!]

Tinker's Construct [Make your own custom tools!]

EnderIO [Compact conduits, machines, powerful tools and armor and more!]

Thermal Expansion [New upgrades, tech and electronic mechanisms!]

Iron Chests [Larger chests]

Immersive Railroading [Awesome new trains for transportation of all kinds!]

XL Food [Over 150 new foods and items!]

Applied Energistics 2 [Make storage systems like never before!]

Twilight Forest [Explore a whole new dimension with new enemies, biomes and bosses!]

Botania [Natural magic!]

Quark [A bunch of awesome little tweaks and additions!]

Blood Magic [Make powerful spells and items with blood!]

Immersive Engineering [Community favorite that adds a bunch of tech-based features and items, with a focus on realism!]

Electroblob's Wizardry [Become a Master Wizard!]
And also some of my personal favorites!
Optifine [Makes the game run better, no cons!]

Mekanism [Tons of cool machinery!]

Minecolonies [Make your own colony and build up an empire!]

JEI and Hwyla [Find items and recipes much faster!]

Aether Legacy [An updated version of the original Aether mod which adds a whole new sky dimension to explore and conquer!]
...And many more!
And best of all, the Yao Pack is 100% SMP (multiplayer) friendly!
Just download the server pack and press the Run.bat file (if you're on a Windows PC, the server download works with both Windows, Mac and Linux)! Otherwise you can always join the official Yao Pack server (already added to your server list when you start up the modpack!)
"So, there must be catch. Right?"
Nope! The modpack runs smoothly on most computers, it even runs better than vanilla Minecraft does for some players, thanks to Optifine and Foamfix!
[Video] How to make Yao Pack Server
**Support the continued development of Yao Pack - Get some cool perks, too! **https://www.patreon.com/henrikomagnifico
*Read the FAQ in the help section if you have any questions, bug reports or mod suggestions. *
Here is a video on how to set up a Yao Pack server using the official Yao Pack Server Builder, it's easy!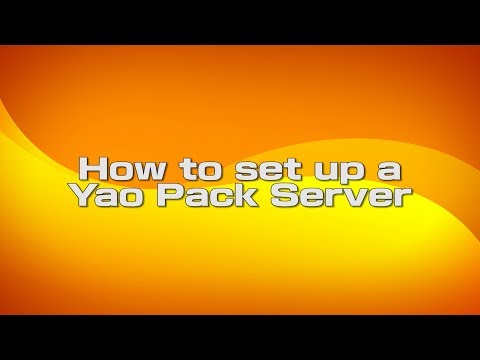 Issues? Here's the issue tracker:
https://github.com/HenrikoMagnifico/YaoPack-Issue-Tracker/issues
It is recommended to have at least 3.5GB of RAM allocated to your Technic Launcher when playing the Yao Pack. It should give you the option to do this automatically, but if you want to do it manually here's how: *Add more RAM via Launcher Settings > Java Settings > Memory. If this option is not available for you, please download the latest version of Java JRE x64 from here: https://java.com/en/download/manual.jsp (Select "offline x64" for your operating system)
---