Welcome to ARTHALOS - Eternal Realm!
"ARTHALOS - Eternal Realm" is a modded Version of Minecraft 1.12.2 which lays the focus on exploring a fantasy world with lots of medieval looking elements. You can create your own autonomous working village, by providing houses and fields. Additionally this modpack contains a mod, which adds MMO RPG elements to the game. You can choose from 12 different Classes with over 60 Magical Abilities.
If you have any questions, proposals or need support of any kind, please feel free to...
open up a new discussion
join our Discord: https://discord.gg/EBm67WdEdd (Support for English/German)
Modpack Modlist | Overview:
(MMO-) RPG - CLASSES & GEAR
MK Ultra
Better Questing (not used atm.)
Level Up 2
Cosmetic Armor Reworked
RPG Inventory
RPG Inventory: Umbralux
RPG Inventory: BMA Addon
EXPLORATION - NEW MOBS, DIMENSIONS & BOSSES
Atum
Twilight Forest
Grimoire Of Gaia 3
Mowzies Mobs
Roguelike Dungeons
Ice And Fire
The Betweenlands
Nether EX
BUILDING - CREATE A MEDIEVAL VILLAGE
TekTopia
Biblio Craft
Chisel
Dark Roleplay Medieval
Corail Pillar
Horse Carts
Custom NPCs
Storage Drawers
Sign Posts
Secret Rooms
Rustic
Chisel and Bits (NEW)
MAGIC - RESEARCH, SPELLS & RITUALS
Astral Sorcery
Blood Magic
Floo Craft
Escapee's Wizardry
Mahou Tsukai
Vampirism
Thaumcraft
TOOLS, WEAPONRY & ARMORY
Tinkers Construct
Tinkers Construct: Armory
Tinkers Construct: Tool Leveling
Tool Belt
Spartan Weaponry
Spartan Shields
The Eight Fabled Blades
NATURE - ANIMALS & PLANTS
Pam's Harvest Craft
Cooking For Blockheads
Mystical Agriculture
Better Animals Plus
Biomes O' Plenty
Vegan Life
SOME OTHER MODS
DaVincis Vessels
Future MC
Grave Stone
NEI / JEI
Wall Jump
Vanilla Fix
Custom Starter Gear
Fast leave Decay (NEW)
---------------------------------------------------------------------------------------
MKUltra Mod | Classic Online ARPG Magic Mod | Overview:
MineKraft: Ultra is a mod for Minecraft 1.12.2 that adds traditional online rpg classes for the player to choose from; expanding combat options significantly. We focus on accessibility and action-packed combat, and you won't find a lot of pointless bars to fill or an unending grind to access the cool stuff. The largest inspirations for the combat and class design are Hexen, Everquest 1, and the Hero-system from Warcraft 3.
TekTopia Mod | AN AUTONOMOUS VILLAGE | Overview: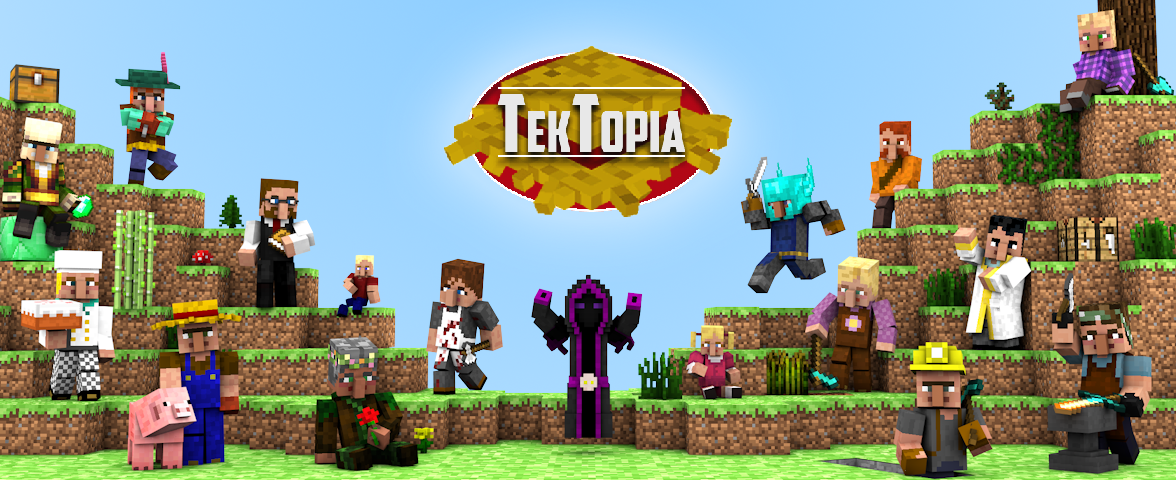 To get started on your own village you'll need to first understand how structures in your village work. All important structures or buildings that your villagers need must be marked with a structure token. To create a valid structure you'll need to have a wooden door with an item frame placed above it or adjacent to its top. Inside that item frame you'll place the structure marker that you bought from your Architect inside your Town Hall. The inside of your structure must have a flat floor even with the base of the door and have a roof covering it. You can find more details about structure validation here. Once a structure marker is in place and the structure has been validated by the village it will glow letting you know your villagers are ready to use it!